A PLATFORM THAT GIVES LOCAL ATHLETES THE EXPOSURE AND OPPORTUNITY NECESSARY TO TAKE THEIR PLAYING CAREER TO THE NEXT LEVEL.
Testimonials
"As a former teammate, I'll tell you first hand how hardworking Bryn was on the field, in the weight room, and In the classroom. At film study, I admire how he always wanted to learn more then he had to; learning other positions giving him more of an edge over the next guy. He was a beast on special teams and I always felt confident when I knew he was out on the field. I got to say he made the locker room a better place because of the easy going, easy to talk to type of person he is. However, as he was a good teammate, I loved how he was able to turn the nice guy switch off and become a bad ass and leader in the weight room. I hope the young athletes listen and take in his knowledge of the game and life itself. "

Super Bowl Champion, Scott Paxson
THE COMBINE
Originated to provide high school football players the opportunity to showcase their skills in front of Scouts and Recruiters from CIS, NCAA, NJCAA and CJFL programs across the US and Canada. Players are ran through the pro-combine drills: 40 yard dash, Pro-Shuttle, Bench Press, Vertical Jump, Broad Jump, and skills testing. Athletes will receive coaching and mentoring from current and former CFL players. Athletes will have the opportunity to earn awards and receive a scholarship from Bryn Roy Football Combines.
Adopt an Athlete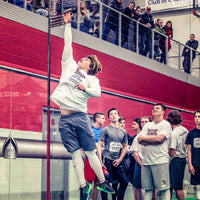 Location
WHEN & WHERE
Saturday, December 2nd
4:00-8:00PM
Sunday, December 3rd
12:00-4:00PM
Strathmore Motor Products Sports Centre
Testimonials
I was at the [2018] combine. I now play for the CJFL Calgary Colts. I just wanted to say thank you for the opportunity to let me continue my football career after high school. I wouldn't have been able to make it without the combine. It really opened up opportunities for me.

James Clarke
The [2018] Bryn Roy Football Combine was a great experience for me and I would recommend it to any young athlete looking for exposure to the next level. This combine not only gave me exposure for the second level but also pushed me as hard as I could to compete against others. 

Riley Gough
[My son] was in Grade 11 at the first combine. Plans to come to the second one!!! Was asked to come to the colts try out before they realized he was only in grade 11. Would really like to find a post secondary school to attend that would want him to play football for them. He really enjoyed your combine. 

Devin's Mom